Tuesday, September 12th at 6:00 p.m. at the library.
Title: The Other Wes Moore: One Name, Two Fates
Author: Wes Moore
Publish Date: 2011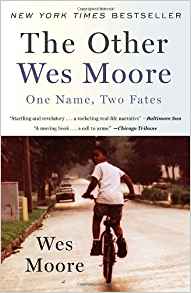 Two youths with the same name, living in the same area, but unknown to one another, both get in trouble with the police. How then did one grow up to be a Rhodes Scholar, decorated veteran, White House Fellow, and business leader, while the other ended up a convicted murderer serving a life sentence? 250 pages.
*Image from Amazon