Thursday, July 13th @ 6:00 p.m. at the library. Open to ages 16-116!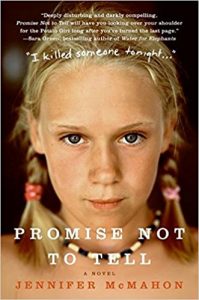 Title: Promise Not to Tell
Author: Jennifer McMahon
Publish Date: 2007
Forty-one year old school nurse Kate Cypher has returned home to rural Vermont to care for her mother who is afflicted with Alzheimer's. On the night she arrives, a young girl is murdered— a horrific crime that eerily mirrors another from Kate's childhood. 258 pages.
Tuesday, August 8th @ 6:00 p.m. at the library. Open to ages 16-116!

Title: The Cat Who Could Read Backwards
Author: Lilian Jackson Braun
Publish Date: 1986
The world of modern art is a mystery to many. But for Jim Qwilleran, it turns into a mystery of another sort when his assignment to the art beat for The Daily Fluxion leads down the path to murder. A stabbing in an art gallery, vandalized paintings, a fatal fall from the scaffolding– this is not at all what Qwilleran expects when he turns his reportorial talents to art. But Qwilleran and his newly found partner, Koko the brilliant Siamese, are back in their element– sniffing out clues and confounding criminals intent on mayhem and murder. 256 pages.